SYSTEM TUNE UPS AND MAINTENANCE
SERVING LOCAL FAMILIES, LIKE YOURS, FOR OVER 100 YEARS!
UGI Heating, Cooling & Plumbing offers system inspections, cleanings and tune-ups to assist you in your HVAC maintenance needs.
Central Air Conditioning Tune-Ups
Heating System Inspections
Heating System Full Cleanings
Fuel Line Inspection
We also offer UGI Advantage Service Agreements that include full coverage for a full year on all labor and most parts, and you can elect to include annual inspections and/or cleanings.
Click here, or on the image below, to see what is included in our AC tune ups.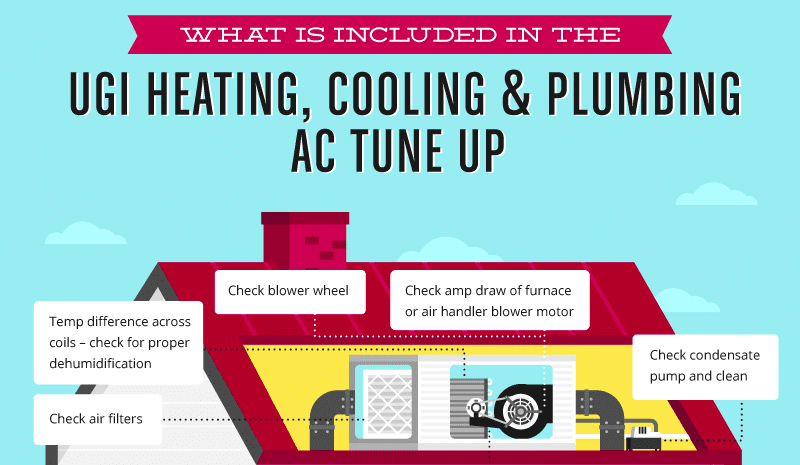 Heating and A/C Inspection includes the following, where applicable:
Check and adjust belts
Check blower wheel
Check burner operation
Check and flush condensate drain
Check condensate pump
Check draft and/or chimney base
Check humidifier dampers
Check operation – limits and controls
Check air filters
Check temperature rise and drop over coils
Check water pressures
Check for worn or defective parts
Inspect & lubricate motors as needed
Inspect burners
Inspect capacitors
Inspect condenser coils and rinse if necessary
Inspect contactor points inspect safety controls
Tighten electrical connections
Check thermostat
Prepare system for operation
Combustion testing
CO test
Confined space measurement
Discussion of findings and overall condition of unit
Air Conditioner or Air Conditioner/Heat Pump Tune-Up/Maintenance includes the following:
Check and adjust thermostat
Check air filters
Check belts and adjust tension
Check blower wheel
Check & flush condensate drain
Check condensate pump
Check for refrigerant and oil leaks
Check defrost
Check humidifier dampers
Check temperature rise and drop over coils
Check evaporator coil if possible
Inspect and adjust temperature controls
Inspect and lubricate motors as needed
Inspect contractor points
Inspect safety controls
Check and test any capacitors
Inspect condenser coils and clean if necessary
Check refrigerant level if needed
Tighten electrical connections
Prepare system for operation
Discussion of findings and overall condition of unit
Residential Heating Tune-Up/Maintenance + Cleaning includes the following, where applicable:
Remove metal vent pipe and inspect chimney base and clean as needed
Check PVC vent and intake piping where necessary
Check overall condition of chimney
Remove and clean burners
Inspect burners for rust and cracks
Remove and clean ignition system
Check micro-amp reading of flame sensor if applicable
Check thermostat for proper operation and adjust as needed
Clean heat exchanger and remove dust and debris
Remove and clean baffles
Inspect heat exchanger for rust, cracks and water leaks
Clean blower assembly if necessary
Check condition of blower wheel or circulator pump
Check and adjust belts/drive belt for wear or cracks
Check steam controls
Check boiler for proper water pressure
Check air filter and replace as needed (additional cost)
Check all controls and safeties for proper operation
Check fan speed for proper heat rise
Check for proper gas pressure and BTU input
Check motors for proper AMP draw
Check and test any capacitors
Lubricate motors/blower
Check for defective or worn parts
Check for proper venting of unit
Check for proper draft
Check ducts or boiler piping for proper installation
Check and flush condensate drain
Combustion testing
Confined space measurement
CO check
Discussion of findings and overall condition of unit
Contact us today, or call 1-833-980-3496