LANCASTER, PA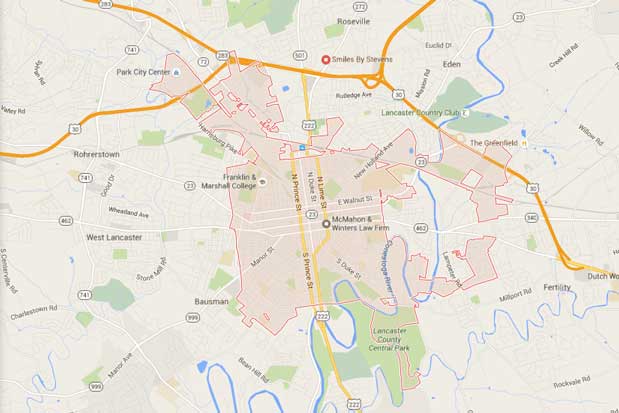 Heating, Air Conditioning and Plumbing Service and Installation in Lancaster, PA
Lancaster, PA dedicates a lot of time and effort into preserving its history and putting its culture and art scene on display. Many festivals and events are held throughout the year, and the activities of 1st Fridays draw in crowds from all over the state.
Homeowners in Lancaster, PA have been relying on UGI Heating, Cooling & Plumbing for important solutions to their whole-home comfort concerns. From our office on Roseville Road in Lancaster, PA, we are close by and ready to help. Whether it's repairing a simple household plumbing issue or installing a state-of-the-art geothermal heating system, our experts are well trained in helping you with your home's concerns. Some of our other services include water treatment system installation, indoor air quality checks, home energy audits and weatherization and more. We love being Lancaster, PA's favorite resource for home comfort solutions.
Not only do we pride ourselves in providing excellent customer service, we also work very hard to make a positive impact in the entire Lancaster area. Our UGI Heating, Cooling & Plumbing Community Support Team is active in the community, sponsoring little league teams, festivals and 5k charity drives. We actively participate in the United Way through employee donations and company-wide donations, helping local organizations right here in the Lancaster area.
Find out why many in Lancaster trust us for their heating, cooling & plumbing needs by calling us for service at 1-833-980-3496 and schedule one of our valuable services!
Heating and Air Conditioning Installation Case Studies in Lancaster, PA
Problem: The furnace and central air conditioning condenser in a Lancaster PA home were old and showed signs of breaking down. The family wanted to upgrade their hvac system.

Solution: Installed a wall-hung boiler and ductless mini-split air conditioning system.

Problem: An apartment complex in Lancaster PA was losing tenants due to their high utility bills.

Solution: Converted from electric to gas heat for the 161 units in the complex.

Problem: The boiler and air conditioning system in a split-level home in Lancaster PA were old and inefficient.

Solution: Installed a new IBC high-efficiency wall-hung boiler with zoned HVAC. Installed a new Carrier air conditioning system.
Heating Service and Installation in Lancaster, PA
When the temperatures dip down this winter, don't shiver in the cold. Trust UGI Heating, Cooling & Plumbing to service your heating equipment so you can stay cozy all season long. Our expert team members are well trained in maintaining and repairing all brands and different kinds of systems including gas, steam, oil, electric, propane – even sophisticated geothermal systems! Service calls in the middle of a snowstorm can be expensive; rely on us for heater cleanings to prolong the life of your system and even save you money on the energy bill! If it's time to replace ineffective or older equipment, UGI Heating, Cooling & Plumbing offers a variety of options from Energy Star rated boilers and heat pumps, to advanced geothermal equipment and everything in between! You can expect a knowledgeable staff that will pay attention to your home's needs and your allotted budget.
Click here to learn more about our heating services
Cooling Service and Installation in Lancaster, PA
The middle of summer in Lancaster, PA can be muggy and hot, but you can rely on UGI Heating, Cooling & Plumbing to help cool you down. Our teams of service professionals have the training and experience to work on any brand name or type of central air conditioning system and heat pumps. You're sure to receive priority service with our custom service agreements. By scheduling an annual tune up with your local UGI Lancaster, PA technicians, you will avoid the discomfort and cost of dealing with an air conditioning breakdown on a humid summer day.
If you're looking to upgrade your system, UGI Heating, Cooling & Plumbing offers a variety of different brands and central air system options for you to choose from. For the areas in your home that don't stay as cool as the rest of the house, we offer a full line of ductless air conditioning systems. Since we are the most trusted name in air conditioning, we invite you to bring your questions to us, and our knowledgeable staff will help answer them!
Click here to learn more about our cooling services
Plumbing Service and Installation in Lancaster, PA
When a plumbing problem arises in your Lancaster, PA home, don't turn to the phone book, turn to UGI Heating, Cooling & Plumbing! Our fully trained plumbers have the experience to repair or replace anything from your water softener to your water heater. We offer other services including sump pump repair and replacement, water testing and more! Save time by letting us be the one you call for any plumbing needs throughout your home.
Click here to learn more about our plumbing services
Energy Audit and Weatherization Service in Lancaster, PA
Do you use oil heat and worry about the rising expense of oil? What about rooms that don't stay warm in the winter or cool in the summer? Worrying about expired electricity rate caps? Every homeowner has energy concerns. Take yours to UGI Heating, Cooling & Plumbing and schedule a whole-home energy audit and weatherization services. These services evaluate your home and help to increase total home comfort and decrease the amount of energy you need to run your equipment, which saves you money on your utility bills. Stop putting up with uncomfortable drafts and wasting your hard earned money on high monthly energy bills! Call UGI Heating, Cooling & Plumbing today to schedule an appointment with our certified home energy auditors and start saving!
Click here to learn more about our energy audit and weatherization services
FOR IMMEDIATE ASSISTANCE
Please Call Us At: 1-833-980-3496
LANCASTER
340 W. Roseville Road
Lancaster, PA 17601
*Listed above are just a few of the communities that we serve in Lancaster County, but we service homes all over the county. We live here. We work here.