DAUPHIN COUNTY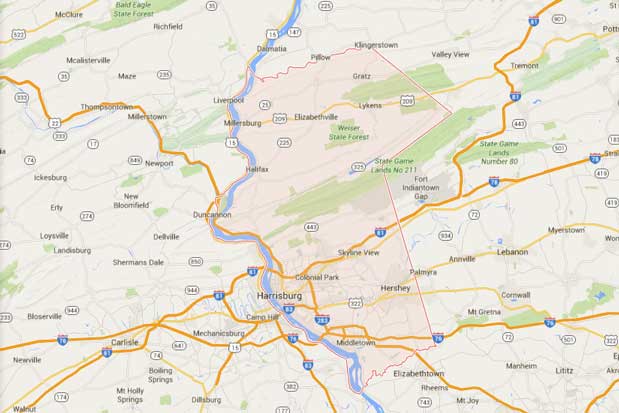 Heating, Air Conditioning and Plumbing Service and Installation in Dauphin County, PA
Dauphin County, PA is the home of the state's capital, Harrisburg, and many other significant historical sites. There are scenic roads, fun family activities, delicious foods and delectable sweets found all across Dauphin County.
Homeowners in Dauphin County, PA have been relying on UGI Heating, Cooling & Plumbing for their solutions to their whole-home comfort concerns. Whether it's repairing a simple household plumbing issue or installing a sophisticated geothermal heating system, our experts are well trained in solving your home concerns. Some of our other services are water treatment system installation, indoor air quality checks, home energy audits and weatherization and more. With an office located on Sycamore Street in Harrisburg, PA, we love being Dauphin County, PA's one resource for home comfort solutions.
We pride ourselves in providing excellent customer service, but we also work very hard to make a positive impact in the entire area. Our UGI Heating, Cooling & Plumbing Community Support Team is active in the area, sponsoring little league teams, festivals and 5k charity races. We actively support local organizations through the United Way at a company level and as individual employees.
Find out why many in Dauphin County trust us for their heating, cooling & plumbing needs by calling us for service at 1-833-980-3496.
We Proudly Serve the Following Communities in Dauphin County, PA:
Heating and Air Conditioning Installation Case Studies in Dauphin County, PA
Problem: A routine furnace inspection in a single-family home in Harrisburg PA revealed a cracked heat exchange. The system needed replacement.

Solution: Installed a new energy-efficient Heil two-stage furnace with variable speed fan and air conditioning condenser.

Problem: The second floor of a two-story colonial home in Harrisburg PA was too hot in the summer and too cold in the winter.The HVAC system was too large for the home.

Solution: Install a new high-efficiency Bryant furnace and high-efficiency Bryant air conditioner.

Problem: An older steam boiler in a duplex in Harrisburg, PA failed. It was too expensive to repair. At the same time, oil prices have risen greatly over the past few years.

Solution: Converted the boiler from oil to natural gas.
Heating Service and Installation in Dauphin County, PA
It's no mystery that Dauphin County, PA has frigid temperatures in winter. When the temperatures dip down, know that you can rely on UGI Heating, Cooling & Plumbing to step in to service and repair your home heating equipment. Our highly trained staff recognizes all brands and types of heating systems; gas, steam, oil, electric, propane, and even geothermal systems are no problem for our dedicated professionals. To maintain your current equipment, a scheduled UGI cleaning helps to prolong its life, while also allowing you to avoid costly service calls and pricey energy bills. When the time comes to replace your equipment, UGI Heating, Cooling & Plumbing offers a variety of the best, most energy-efficient heating systems on the market. In order to make your decision process easier we offer boilers that are Energy Star rated and we also carry heat pumps, furnaces, advanced geothermal systems, and many more. Our dedicated customer service representatives value your opinion and will make sure they help you find the best equipment to fit your needs and budget.
Click here to learn more about our heating services
Cooling Service and Installation in Dauphin County, PA
You're sure to stay cool and comfortable all summer long when you rely on UGI Heating, Cooling & Plumbing to help repair and replace your central air system. Our service professionals work on any brand or type of equipment, and you'll receive priority service with our custom service agreements. You'll avoid the hassle and cost of having your air conditioner break down in the middle of summer when you schedule one of our Dauphin County, PA technicians to perform a simple, yet impactful annual tune up.
If you need to replace outdated, ineffective equipment, UGI Heating, Cooling & Plumbing has a full line of the best systems available. If you have hard to cool areas in your home, we can address this problem by providing you with a large selection of ductless air conditioning systems. We enjoy helping our customers solve their specific cooling problems, so call us today and find out why we've been named the most trusted name when it comes to air conditioning needs!
Click here to learn more about our cooling services
Plumbing Service and Installation in Dauphin County, PA
Look no further than UGI Heating, Cooling & Plumbing for your plumbing and installation needs. Our plumbers that serve Dauphin County, PA are expertly trained and have years of experience. They will know exactly what to do to repair or replace your plumbing equipment, from water heater to water softener. UGI also offers sump pump repair or replacement, water testing, and much more! We pride ourselves in being the only call you'll need to make for your whole-home plumbing needs.
Click here to learn more about our plumbing services
Energy Audit and Weatherization Service in Dauphin County, PA
Are you annoyed by rooms in your Dauphin County, PA home that never seem to stay warm in the winter and cool in the summer? Worried about what to do about expired electricity rate caps? We all have energy concerns. Take yours to UGI Heating, Cooling & Plumbing and schedule a whole-home energy audit and weatherization services. These services evaluate your home and help to increase total home comfort and decrease the amount of energy you need to run your equipment, saving you money on your utility bills. Stop putting up with uncomfortable drafts year after year. Don't waste your money on high monthly energy bills! Call UGI Heating, Cooling & Plumbing today to schedule an appointment with our certified home energy auditors and start saving money tomorrow!
Click here to learn more about our energy audit and weatherization services
*Listed above are just a few of the communities that we serve in Dauphin County, but we service homes all over the county. We live here. We work here.