EXTON PA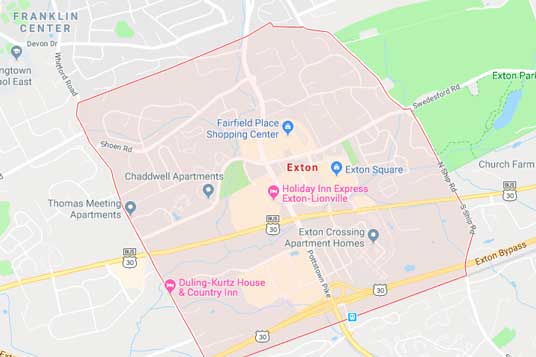 Heating, Air Conditioning and Plumbing Service and Installation in Exton, PA
Exton, PA is a beautiful area in with many commercial shopping centers, making it the main shopping district in Chester County, PA.
For more than a century, we at UGI Heating, Cooling & Plumbing have seen our customers as our number one priority. Throughout Exton, PA, we take pride in our ability to offer a large variety of whole-home comfort solutions, from installing energy-saving HVAC systems to water treatment systems and plumbing repairs. At UGI, we are your one-stop shop for all of your heating, cooling, and plumbing needs.
Thanks to our impeccable customer service and our drive to find the best ways to serve you, we are proud to be a recipient of the Angie's List Super Service Award, and we strive to continue to uphold our unparalleled customer service.
Throughout the year, our customers in Exton, PA trust us with their home comfort needs. To learn more about the services UGI Heating, Cooling & Plumbing offers and how we can help you, give us a call at 1-833-980-3496.
Heating Service and Installation in Exton, PA
Living in Exton, PA, you know that the winters can be rough, and the last thing you want is for an unexpected breakdown to happen in the middle of winter leaving you without heat. At UGI Heating, Cooling & Plumbing, let us be your go-to for repairing and servicing your heating systems. Not only do we maintain a team of highly-trained and experienced individuals, we can also service and repair all brands and models of heating systems, whether it be gas, steam, oil, electric, or propane — we can even maintain geothermal heat pumps and ductless systems.
Don't wait until winter hits; give UGI Heating, Cooling & Plumbing a call to clean your existing systems and equipment to keep it running longer. Need to replace an inefficient, outdated system? We've got you covered. UGI Heating, Cooling & Plumbing cuts through the confusion offers its customers the best selection of energy-saving Energy Star heating systems, from heat pumps and furnaces to boilers and advanced geothermal systems, and helps customers find the system that's right for them.
Click here to learn more about our heating services
Cooling Service and Installation in Exton, PA
Get the jump on the summer months with air conditioning maintenance and repair services from UGI Heating, Cooling & Plumbing in Exton, PA. At UGI HVAC, we have experience when it comes to maintaining all brands and every type of HVAC system, so you can rest assured that we can service you. At UGI, you'll always receive priority service because you are our priority. Arrange for one of our local technicians in Exton, PA to perform an annual AC tune-up to prevent a breakdown on a sweltering summer day.
We're here to help you upgrade your current air conditioning units as well. The selection of energy saving equipment you can find at UGI Heating, Cooling & Plumbing will help you keep your house cool this summer while keeping the energy bill down, too. Have difficult-to-cool areas in your home or areas with no duct work? Not a problem! Even if your home lacks duct work, we have a full line of ductless air conditioning systems to offer you, as well. No matter what your air conditioning needs, as the most trusted name in Exton, PA, we can help you solve your air conditioning problems!
Click here to learn more about our cooling services
Plumbing Service and Installation in Exton, PA
Ever tried finding a good plumber in Exton, PA by flipping through the phonebook? With UGI Heating, Cooling & Plumbing, your search is over. UGI HVAC has highly-trained and skilled plumbers that can work with any equipment causing problems to repair it or replace it. We install and service water heaters, water softeners, and other water treatment systems. UGI HVAC, with a dedicated and knowledgeable team, is the one to call when plumbing problems pop up in your Exton home.
Click here to learn more about our plumbing services
Energy Audit and Weatherization Service in Exton, PA
If you're worrying about rising oil costs, unpredictable electricity rates, and home areas with temperatures that are difficult to control, you aren't alone. Fortunately, UGI Heating, Cooling & Plumbing can provide you with assistance and peace of mind through one of our extensive weatherization services or whole-home energy audits. UGI's certified home energy auditors will provide you with a written summary and evaluation you can use to unlock better energy savings, letting you live more comfortably, even when the energy bill arrives. Make an appointment with our certified home energy auditors today!
Click here to learn more about our energy audit and weatherization services
The Most Comprehensive Service Agreement in Exton, PA
Rest easy with the UGI AdvantageTM Service Agreement from UGI Heating, Cooling & Plumbing. Exton's most comprehensive service plans offer parts and labor coverage for your home's central air, heater, water heater, and/or natural gas lines. This coverage is unmatched in the Exton area. That's the UGI Advantage!
Click here to learn more about the UGI AdvantageTM Service Agreement.
*Listed above are just a few of the communities that we serve in Chester County, but we service homes all over the county. We live here. We work here.