BERKS COUNTY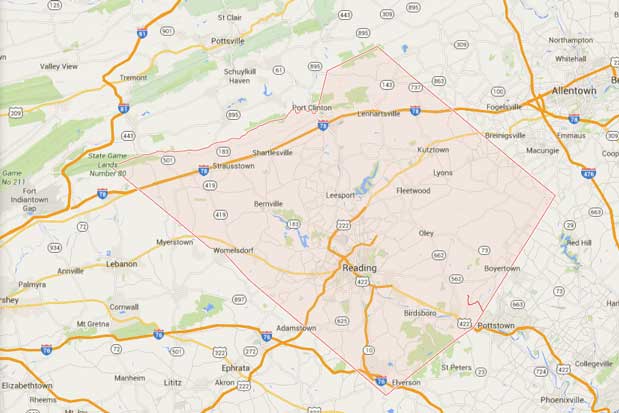 Heating, Air Conditioning and Plumbing Service and Installation in Berks County, PA
Scenic Berks County is home to beautiful countryside, historic covered bridges and natural landmarks like the Crystal Lake.
At UGI Heating, Cooling & Plumbing, our customers, who have relied on our services for over 120 years, are our number one priority. We pride ourselves in being able to provide a wide array of whole-home comfort solutions for Berks County. From household plumbing repairs and water treatment systems, to installing energy-saving heating and air conditioning systems, UGI's services are a one-stop-shop for Berks County's HVAC concerns.
The team at UGI Heating, Cooling & Plumbing cares about not only the customers, but also the rest of the community at Berks County. UGI loves giving back to Berks County by sponsoring little league teams, hosting 5k races, and other outreach events throughout the year. We love seeing you in person at events like the Hamburger Festival in Hamburg or the Berks County Senior Expo.
UGI Heating, Cooling & Plumbing is proud to be the recipient of multiple awards in this community, including the Berks County People's Choice Award. Our corporate headquarters are located in Wyomissing, PA, and we have an office located in Reading, PA. Our employees are your neighbors, living in communities throughout Berks County. We live here. We work here.
Our customers in Berks County trust us throughout the year for their home comfort needs. To find out more about what services UGI Heating Cooling & Plumbing can help you with, feel free to contact us at 1-833-980-3496.
We Proudly Serve the Following Communities in Berks County, PA:
Heating Service and Installation in Berks County, PA
We all know that winters can be brutal in Berks County. If the heat goes out, UGI Heating, Cooling & Plumbing should be your go-to for service and repair of home heating equipment. Not only is our staff highly trained, they can also maintain all brands and types of equipment systems including gas, steam, oil, electric, propane – even geothermal heat pumps and ductless systems! Before the winter season hits, check with UGI Heating, Cooling & Plumbing to help with cleaning the equipment you already own in order to prolong its life, which will save you from making costly service calls in the dead of winter. When it comes to replacing inefficient equipment UGI Heating, Cooling & Plumbing offers the best in energy-saving heating systems including Energy Star rated boilers, heat pumps, furnaces, and advanced geothermal systems. We take the guesswork out of finding a heating system that fits your needs and budget.
Click here to learn more about our heating services
Cooling Service and Installation in Berks County, PA
When summertime rolls around, it's best to have UGI Heating, Cooling & Plumbing around for our air conditioning maintenance and repair services for Berks County. You'll receive priority service when you choose UGI because we maintain all brands and every type of central air system and heat pumps. When you arrange for one of our local Berks County technicians to perform an annual tune up, you can rest assured that you will avoid the discomfort and cost of a central air conditioning breakdown on a hot summer day.
If an upgrade is needed in your Berks County home, UGI Heating, Cooling & Plumbing offers an assortment of energy-saving equipment that will help you keep your entire house cool during the entire summer. Have areas in your home that are difficult to cool? No problem! No duct work? No problem! We offer a solution for homes lacking duct work with our full line of ductless air conditioning systems. We can help you solve any of your cooling problems, after all, we are the most trusted name in Berks County for all air conditioning needs!
Click here to learn more about our cooling services
Plumbing Service and Installation in Berks County, PA
Ever flip through the Berks County, PA phone book to find a good plumber? Look no more! UGI Heating, Cooling & Plumbing has fully trained and experienced plumbers that will know what to do to repair and replace any plumbing equipment that is giving you problems, from your water heater to your water softener. In addition, we offer sump pump repair and replacement, water testing, drain cleaning, and so much more! When plumbing problems arise, call our dedicated staff for their extensive knowledge.
Click here to learn more about our plumbing services
Energy Audit and Weatherization Service in Berks County, PA
Do you worry about having expired electricity rate caps, rising oil heat costs, or having rooms that are difficult to warm in the winter and cool in the summer? UGI Heating, Cooling & Plumbing can help you by providing a whole-home energy audit or our extensive weatherization services. Your Berks County, PA home can benefit from our services, which are designed to reduce the energy usage of your home and better provide total home comfort. UGI's whole-home energy audit provides you with a written summary and evaluation, allowing you to gain better energy savings, which helps you when the energy bill arrives in the mail. Our certified home energy auditors will help you save money throughout the seasons, so make an appointment with them today!
Click here to learn more about our energy audit and weatherization services
*Listed above are just a few of the communities that we serve in Berks County, but we service homes all over the county. We live here. We work here.